Prince of Persia
Prince of Persia
is a video game series franchise created by American developer company
Broderbund
, which is now defunct. Starting with
Prince of Persia: The Sands of Time
(2003), the third installement of the series, the devopment process was taken by
Ubisoft
. The Prince stay unnamed through the whole
Prince of Persia
franchise development.
More about the games?
The film
The film Prince of Persia: The Sands of Time is set in the Sassanid Empire. A Persian King Sharaman sees a very brave boy in a public market. Delighted with his skills and bravery, Sharaman decides to adopt the boy into his royal family.
The film was produced by Jerry Bruckheimer Films, distributed by Walt Disney Pictures and directed by Mike Newell of Harry Potter and the Goblet of Fire fame. The score was composed by Harry Gregson-Williams.
Cast:
Jake Gyllenhaal as Prince Dastan (The Prince at IMDb)
Gemma Arterton as Tamina (IMDb)
Ben Kingsley as Nizam (The Vizier at IMDb)
Alfred Molina as Sheik Amar, a crooked businessman and ostrich racing-organizer (IMDb)
Ronald Pickup as King Sharaman (IMDb)
Richard Coyle as Tus
Toby Kebbell as Garsiv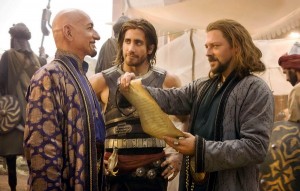 Plot
Prince Dastan, adopted boy from the prologue and now a full-grown man, takes part in a military campaign alongside his brothers, Tus (heir apparent), Garsiv and his uncle Nizam, who also serves as a king Sharaman's adviser. Their road lies through the sacred city of Alamut. According to the Nizam's evidence, the city supplies with weapons the enemies of the Empire. Prince Tus decides to attack Alamut in spite of his father's request not to touch the sacred city.
Alamut is easily taken by Persian army. No weapon can be found, except that Dastan accidentally captures a strange looking dagger and leaves it as a souvenir.

Upon arriving to Alamut king Sharaman scolds his sons for disobedience and the damage they brought to the sacred city without any good reason. Tus assures his father that he would find the hidden weapon at all costs. During the celebration of Sharaman's army victory, the King is given a poisoned robe as a present from Dastan, who in return actually got it from Tus. Sharaman dies of poison, Dastan is blamed for the King's murder. He flees from the palace with Tamina, a beautiful Princess of Alamut.

In exile Dastan finds out that his dagger holds the power to turn back time. He decides to fix history and to prevent the death of his father. Together with Tamina, he travels to Sharaman's funeral and meets his uncle Nizam in order to ask for help. Dastan notices that Nizam's hands are burned by poison and inevitably comes to conclusion that the murderer of his father was Nizam himself.
Indeed, Nizam is plotting to take the throne through obtaining powers of the legendary Sands of Time, and therefore he needs Dastan's dagger. Nizam plans to reverse time and let his brother Sharaman die young, so that he could become a King. To keep the dagger away from Nizam, Dastan and Tamina must hide it in a secret sanctuary.
(contains a translation of
Prince of Persia (film) article
from ru.wikipedia)
Soundtrack

The score was composed by
Harry Gregson-Williams
. Single CD was
released
on May 25, 2010 under Walt Disney Records label.
Song Title
The Prince Of Persia
5:19
So, You're Going To Help Me?
2:20
Raid On Alamut
6:32
The Oasis Ambush
1:54
Tamina Unveiled
2:34
Hassansin Attack
2:59
The King And His Sons
2:59
Return To Alamut
3:05
Dastan And Tamina Escape
2:59
No Ordinary Dagger
4:39
Journey Through The Desert
2:55
The Passages
3:08
Ostrich Race
0:59
The Sands Of Time
3:58
Running From Sheikh Amar
3:27
The Passages
3:58
Trusting Nizam
4:37
Destiny
3:38
Visions Of Death
1:46
I Remain (Alanis Morissette)
4:57