Seiyuu
What does this word mean.
A
seiyuu
(声優, seiyū, seiyu) is a Japanese voice actor. Seiyuu work in radio, television and movies, perform voice-overs for non-Japanese movie and work as anime and video game character actors. Because the animation industry in Japan is so prolific and we mainly see hand-drown characters on TV, seiyuu are able to have full time careers performing voice overs. Willing to know more?
Read this article
.
Mamiko Noto
Introduction.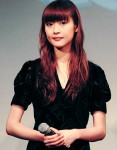 Mamiko Noto
is a talented and popular
seiyuu
and vocalist , who has lent her voice to a number of wonderful characters in video games and anime series, such as
Ah, My Goddess
,
Full Metal Panic
,
Elfen Lied
,
Ichigo 100%
,
Witchblade
,
Trinity Blood
,
Jigoku Shoujo
, and
InuYasha
.
She has also performed opening and ending and image songs for the series in which she voices characters, such as Burn-Up Scramble, Kita he (Diamond Daydreams), Jigoku Shoujo, Negima!, School Rumble, and Witchblade.
Written by Jordana, the previous owner.
Further Information
Biography & miscellaneous.
Website
Discaimers and credits.
This fanlisting is
nonprofit
. I do not earn any money from Mamiko Noto's work and I am not affiliated with her in any way.
Will You Listen?
is a part of
sleety.org
. Layout version 1.0. Original image taken from
seiyuu.info
gallery, textures from
Hybrid Genesis
.