MEN'S SINGLE SKATING
The men's single skating discipline has a long history. In the XIX - early XX centuries men's skating was dominated by Austrian, Russian, German, Norwegian and Swedish figure skating schools. At the first unofficial World Figure Skating Championships in 1890 Russian skater Alexei Lebedev has won all three events. Ulrich Salchow, also known as the inventor of Salchow jump, was undefeatable champion of 1901-1911.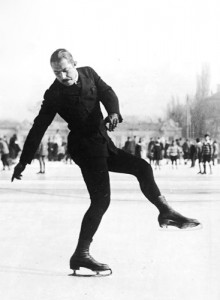 The period between the World War I and World War II seen many talented skaters from Austria, such as Willy Bockl (period of activity 1925-1928), Karl Schäfer (1930-1936), who performed Rittberger jump for the first time, and Felix Kaspar (1937-1938).
After World War II American and Canadian skaters started to compete with European skaters on equal footing. Athletic Americans demonstrated complex jumps and fast spins, while the European skaters' biggest advantage was the artistic side of skating and superb compulsory figures (aka the figures).
The first post-war World Championships in 1947 was won by Hans Gerschwiler of Switzerland, who got most benefits in the figures discipline and defeated all opponents despite two falls in free skating. The only Swiss skater to repeat this success was Stephane Lambiel in 2005 and 2006.
American champion Dick Button first merged jumps with spins. He won the 1948-1952 World Championships. Other prominent American skaters were Jenkins brothers (Hayes Alan Jenkins, David Jenkins), Ronald Robertson who mastered the triple Salchow, Terry Kubicka, who was able to land five different types of triple jumps, Scott Hamilton (best results in 1981-1984), Brian Boitano (first to land a ratified quadruple jump in 1988).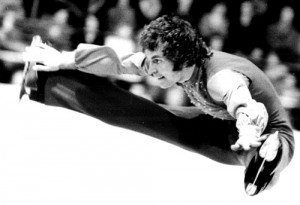 In 1962 Donald Jackson, the first Canadian skater to win the World Championships, landed a triple Lutz jump in international competition and received seven 6.0 marks for technical merit. 1970s and 1980s saw the brightest stars of the Canadian figure skating school: Toller Cranston, whose spins, spirals and steps went down in history; Brian Orser; Kurt Browning (competed in 1980s-1990s); Elvis Stojko (1990s).
As for Europe, in the 1960s French coach Jacqueline Vaudecrane gave the world two wonderful skaters Alain Giletti and Alain Calmat. The latter was especially famous for his interesting choreography and complex connecting elements.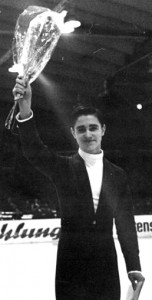 In 1966-1968 Austrian skaters
Emmerich Danzer
and
Wolfgang Schwarz
competed equally successful both in
figures
and
free skating
. British school, represented by such skaters as Olympic champion
John Curry
, was well-known for its academic approach and compulsory figures of the highest quality.
Soviet (later Russian) figure skating school, arguably founded by the 1908 Olympic medalist Nikolay Panin-Kolomenkin, struggled for dominance both in the figures and free skating. Soviet figure skaters debuted at the World Championships in 1958. Since then World Championships and Olympic game medals were won by Sergei Volkov (first Soviet World Champion in 1975), Vladimir Kovalev, Alexander Fadeyev, Alexei Urmanov (first skater to perform a quadruple jump at the European Championships), Ilia Kulik (competed in the 1990s), Alexei Yagudin, Evgeni Plushenko.
USEFUL LINKS
DISCLAIMER AND CREDITS
The site exists exists for nonprofit entertainment purposes.
The Gambler
fanlisting is a part of
sleety.org
. You're looking at the layout version 2.0, best viewed with resolution
1024x768
or higher. Graphics were done by me (deerstop) with Adobe Photoshop CS5 and coding with Espresso, Photoshop textures courtesy of
Hybrid Genesis
. History of men's skating was partially translated from
ru.wikipedia.org
. Illustrations from
German Federal Archive
(Deutsches Bundesarchiv).