Bleach
Bleach
is a best-selling manga and anime series.
Kuchiki Rukia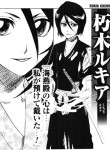 Kuchiki Rukia
(Japanese:
朽木 ルキア
) is a friend of
Ichigo
, and the one who had initially given him the powers of Soul Reapers (or
shinigami
). Rukia's history begins in
Soul Society
(
尸魂界
; Japanese for "dead spirit world"), as a child growing up in one of the poorer districts.
Kuchiki Byakuya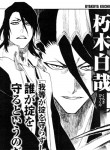 Kuchiki Byakuya
(Japanese:
朽木 白哉
) first arrived in
Bleach
as the silent yet powerful
shinigami
sent alongside Abarai Renji to find and bring Rukia back to Soul Society.
The introduction

Rukia decides to leave Ichigo. As she runs from the Kurosaki home, two shinigami appear in the night sky. The red-haired one observes her and says, "Kuchiki Rukia... We found you!"
Before the execution

The next major meeting of the characters happens when Ganjyu and Hanatarou come to rescue Rukia. Outside the white tower
Senzaikyu
(
懺罪宮
; "Palace of Remorseful Sin"), Byakuya approaches the entrace to Rukia's prison to stop them.
Rukia's memories
We enter Rukia's dream, and it is Rukia's first day as Shinigami. The other members of the division taunt her behind her back because she was adopted by the Kuchiki family.
Day of the sentence

Rukia's execution is an event taking place on the Soukyoku Hill. She faces execution by the
Soukyoku
(
双殛
; "Twinned Punishment") for her crime of transferring her shinigami powers to Ichigo Kurosaki.
Byakuya and Rukia

At the beginning of the series, at Ichigo's surprise, Rukia's death sentence is supported by her own brother, the head of one of the four great noble shinigami clans. Apparently Byakuya could have done something to lessen sentence, however, he acts very apathetic towards his sister, barely even looking at her, although she seems to idolize him to a certain extent. Renji is shocked to find out that Byakuya does not talk to Rukia and barely acknowledges her at all.
After Ichigo saves her life, Rukia learns the truth about her brother and what she was actually the sister of Byakuya's wife Hisana. With the battle with Aizen over, the fourth division squads rush in to treat all the injured. Captain Unohana Retsu (卯ノ花 烈) arrives to see Inoue using an unknown healing technique on Ichigo. She herself goes to treat Byakuya, and then calls over Rukia so that her brother can tell her something. We get to see why Byakuya acted as he did.
As explained in the chapter 179 of Bleach manga, in order to survive Hisana abandoned child Rukia on the streets of Soul Society.

Hisana abandoned Rukia on the streets of Soul Society when they were young, as the responsibility of raising a child was too much. This decision was one that Hisana always regretted, and on her death bed she asked Byakuya to find her sister and use his power to protect her.
She had implored to her husband, Byakuya, that he find and raise Rukia as his sister. Byakuya obeyed Hisana's deathbed request. He did this by adopting Rukia into the Kuchiki family, at which point he swore to himself on his parent's grave that he would never again break any laws or overstep the bounds of nobility.



His marriage to Hisana was looked down upon as she was not of noble descent. It was also frowned upon when Byakuya adopted Rukia into the Kuchiki family. So he swore upon his parents' graves that he would never break the rules again, no matter what, therefore he did not interfere with Rukia's death sentence. When Rukia was sentenced to death, Byakuya had to decide on protecting her or following the rules, and it's clear which choice he made.

Because of that, Byakuya expresses his gratitude towards Ichigo, and apologizes to Rukia. Ichigo's interference saved her. After said events and Rukia's rescue, their relationship improves greatly, and two of them show deep concern towards each other.