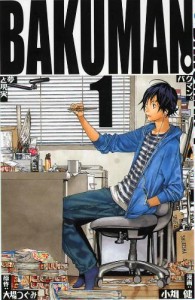 Bakuman
was written by Tsugumi Ohba and illustrated by Takeshi Obata - authors who are well-known for their collaboration on famous
Death Note
series.
The first chapter of Bakuman was published in Shonen Jump weekly magazine in April 2008. In 2010 it was adapted into anime from J.C.Staff studio. The plot revolves around two classmates, Moritaka Mashiro and Akito Takagi, who want to become popular manga artists ("mangakas"). They set up a manga studio at the apartment of Moritaka's dead uncle. Moritaka is a talented artist, though he's often displeased with his own work. Akito becomes a script writer.
Manga volumes
Characters
Moritaka Mashiro, nicknamed Saiko (an alternate reading of the kanji in his name), is one of the main characters in Bakuman. He decided to follow his uncle's footsteps despite the fact that his uncle died of fatigue being unable to regain popularity in manga industry and earn enough money. Moritaka is in love with his classmate Miho Azuki. At the very beginning of Bakuman, he unexpectedly proposes to her and Miho agrees, but with one condition: they will not meet until they fulfill their dreams, and get married after that.



Akito Takagi, nicknamed Shujin, is another main character and Moritaka's best friend best friend. After discovering Moritaka's artistic talent, he decided they should draw manga together and convinced Moritaka to try. Akito is very intelligent, and he's a talented writer. He's especially good with twisted and original story lines. Akito and Moritaka begin their collaboration under the pen name Muto Ashirogi, which is a combination of Miho Azuki (A), Mashiro (Shiro), and Takagi's (Gi) names along with Japanese words "dream" and "come true" (Muto).



Miho Azuki is the romantic interest of Moritaka. She's very cute and shy. Her childhood dream is to become a voice actor. Miho really likes Moritaka, but refuses to marry him until they both fulfill their dreams.


Kaya Miyoshi is Azuki's best friend and later Akito's girlfriend. She feels a little bad being surrounded by talented people, so she tries to wrote novels, but ends up with Akito writing for her. She abandons this idea and decided to simply support the team with her positive attitude.
The title
According to
Hero Complex
, the title plays off the Japanese words
bakuhatsu
(explosion),
baku
(a dream-eating monster) and
bakuchi
(gamble — Moritaka insists working in manga is a gamble).
However baku has a lot of meanings, including "burst of laughter", "bonds", "vague" or "wide", "lonely" and even "waterfall". So why "bakuman"? No one knows for sure!