Hello, and welcome to Threads Unweave, the one and only TFL-approved fanlisting for a young adult fantasy novel Tithe: A Modern Faerie Tale written by Holly Black. Many thanks to Lorraine for letting me adopt the fanlisting! ♥ So, do you like the book? Then read the rules and feel free to join us! If you want to update your fanlisting information, please use update form instead.
11
members
from 5 countries
Last updated: 12th September 2022

Pending members: 0

Newest members: Sasha
Script used: Enthusiast
A fanlisting is simply an online list of fans of a subject, such as a TV show, actor, or musician, that is created by an individual and open for fans from around the world to join. They are a way to show your love or support. The only requirements to join a fanlisting are your name and country. To link back to a fanlisting you've joined, you can use small images called codes or buttons. They are placed on your own personal website and are linked back to the fanlisting so that other people may see the code and know that you are a fan. If you would like to know more about fanlistings, please visit animefanlistings.org.
Our affiliates
If you'd like to be listed here, please contact me. I'll gladly affiliate with any related fanlisting.
I. About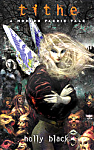 Tithe: A Modern Faerie Tale (aka A Modern Tale of Faerie) was published in 2002. The main character Kaye, a 16 years old girl, can see Faeries. She travels from city to city with her mother's rock bank, under an ominous attack forces them back to her childhood home.
From
Simon & Schuster
:
Kaye's not a child anymore and this time she's dragged into the thick of their dangerous, frightening world. A realm where black horses dwell beneath the sea, desperate to drown you... where the sinister Thistlewitch divines dark futures, and where beautiful faerie knights are driven to perform acts of brutal depravity for the love of their uncaring queens. Once there, Kaye finds herself an unwilling pawn in an ancient power struggle between two rival faerie kingdoms ~ a struggle that could end in her death...
There are two more books in the Modern Faerie Tale series. Valiant (2005) is about a new character, seventeen-year-old Valerie, who runs away to New York City, meets a gang of squatters and lives with them in the city's labyrinthine subway system. She meets new friends, including a real-life troll Ravus. Ironside (2007) features Kaye again.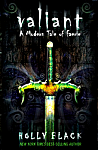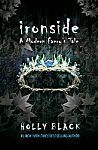 Discaimer and credits
The fanlisting exists for
nonprofit
entertainment purposes only. Everything belongs to its respective owners, no copyright infringement intended.
Threads Unweave
is a part of
sleety.org
and
TFL
, layout version 3.1. Graphics were done by me (deerstop) with Adobe Photoshop CS5 and coding with Notepad2. Original image taken from the manga by Kai Tsurugi, fonts used: Droid Sans and font used: House Trained; Photoshop brushes from
sakimichan
and
Hybrid Genesis
.
Fight Spam!
If you wish to contact me, please use
this form
.
II. Rules & codes
Please read these before joining:
You must be a fan of Tithe. ♥ What are you doing here otherwise? ;)
You have to input a valid e-mail address and country.
Please, use sane name/nickname when filling the form. Having too much numbers or symbols in your nickname is not appreciated. I will change your name if necessary.
A website is not required, but if you do have a website and you want it to be listed here, please pick a code and link back to //fan.sleety.org/tithe/
Please do not direct link codes or images.
You can choose one of the following codes. Willing to donate some of yours? Then e-mail me: .
50x50





From
Lorraine
:
















Click on the size to view more codes:
III. Join
If you want to update the fanlisting information please use
this other form
.
Please use the form below for joining the fanlisting. Please hit the submit button only once. Your entry is fed instantly into the database, and your email address is checked for duplicates. Passwords are encrypted into the database and will not be seen by anyone else other than you. If left blank, a password will be generated for you.
If you encounter problems, please feel free to .
The fields with asterisks (*) are required fields.
IV. List of members
Showing fans...
Elin
Sweden — email — website
Emcy
Canada — — website
Erin
United States — — website
H. Savinien
United States — email — website
Jess
United States — email — website
Kristen
United States — — website
Lorraine
Ireland — — website
Sasha
United States — email — website
Setsuna
Germany — email — website
Tif
United States — — website
Trick
United States — — website