Back to Top
Welcome to
A Man and a Woman
, the
TFL
-approved fanlisting dedicated to
pair skating
. So what is a "pair skating", you ask? Well, it's a figure skating discipline. Pair teams, consisting of one lady and one man, compete with others. Skaters perform various elements such as jumps, acrobatic lifts, death spirals and spins, but the
best
part of it is the unique mood between two people on the ice, tension and unity between them.
So, do you like pair skating? Then read the rules nd feel free to join us! If you want to update your fanlisting information, please use update form instead.
The fanlisting was last updated on 01st January 2023,
with Marley as the newest member(s). ♥ There are currently 22 fans listed and 0 pending. Powered by Enthusiast.
Know nothing about fanlistings? A fanlisting is simply an online list of fans of a subject, such as a TV show, actor, or musician, that is created by an individual and open for fans from around the world to join. There are no costs, and the only requirements to join a fanlisting are your name and country. If you'd like to know more, please visit thefanlistings.org.
About
According to the early rules of the International Skating Union (ISU), which were created in 1897, the competitions were held between the three kinds of pairs, i. e. a man and a woman, two men and two women. That situation continued up to the 1960s, however the World Championships and the Winter Olympics were only held for the mixed gender pairs.
The first World Figure Skating Championship in pair skating was held in 1908. At first, this discipline was dominated by German, Austrian, and French skaters. A pair from Germany Anna Hubler/Heinrich Burger won the consecutive World Championships held between 1908-1910; another German pair Maxi Herber/Ernst Baier achieved the same result in 1936-1939. An Austrian skater Helene Engelmann won the World Championships in 1913, 1922 and 1924 in pair with Alfred Berger and later with Karl Mejstrik. Finnish figure skaters Ludowika Jakobsson/Walter Jakobsson were three-time World champions as well. All these pairs also became the Olympic champions at different times. Famous French skaters Andree Brunet/Pierre Brunet, who are considered groundbreakers in early pair skating, won the World Championships in 1926, 1928, 1930, and 1932. They are credited with creating mirror skating, and new jumps, lifts, and spins.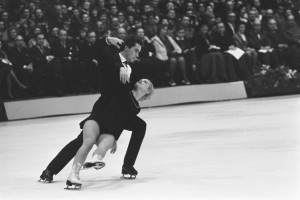 After World War II, despite the sad situation in single skating, European pairs held up against Americans and Canadians. Among the most famous pairs were: Micheline Lannoy/Pierre Baugniet from Belgium in the 1940s, Ria Baran/Paul Falk from West Germany and Sissy Schwarz/Kurt Oppelt from Austria in the 1950s, Marika Kilius/Hans-Jurgen Baumler from West Germany in the 1960s. Undefeated champions Ria Baran/Paul Falk was the first couple which performed side by side double jumps. Since 1950 the Canadian figure skating school has made great progress, and its representatives Barbara Wagner/Robert Paul became the 1960 Olympic champions, and four-time World champions.
Two-time Olympic champions (1964, 1968) and four-time World champions (1965-1968) Ludmila Belousova/Oleg Protopopov were the first to perform a 'cosmic' spiral (a variaton of a death spiral) and some other transitional movements and decorative elements. They revolutionised the physiological aspect of pair skating, perfectly embodying classical pieces of music on ice and creating unique programs with subtle atmosphere (usually romantic).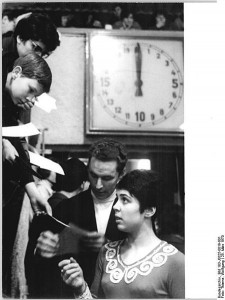 Since then the Soviet school turned into the best school in the world and gained a legendary status. Soviet pairs won all 12 Olympic gold medals in 1964-2006 and most of various championships held between 1965 and 2007.
Irina Rodnina teamed up with Alexei Ulanov and later with Alexander Zaitsev to win three Winter Olympics (1972, 1976, 1980) and 10 World Championships (1969-1979, except 1978). They demonstrated great athletism, speed and complicated technical elements, such as a double axel jump and triple twist lifts.
Among other successful Soviet pairs were Tamara Moskvina/Alexei Mishin, later famous coaches, Lyudmila Smirnova/Andrei Suraikin, Elena Valova/Oleg Vasiliev, Natalia Mishkutionok/Artur Dmitriev, and of course Ekaterina Gordeeva/Sergei Grinkov, one of figure skating's most recognized teams in the 1980s-early 1990s.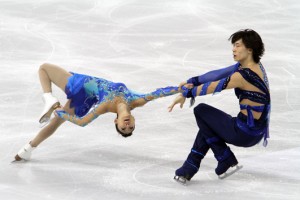 Their programs were masterpieces, performed with almost complete synchronicity, coordinated technique and filled with complex elements, such as a quadruple twist lift. Since the late 1990s, pair skaters from China achieved considerable success. Chinese skaters, most notably the 2010 Olympic champions Shen Xue/Zhao Hongbo, are the strongest in the world.
Rules & codes
Please read these before joining:
You must like pair skating. What are you doing here otherwise? ;)
You have to input a valid e-mail address and country.
Please, use sane name/nickname when filling the form. Having too much numbers or symbols in your nickname is not appreciated. I will change your name if necessary.
A website is not required, but if you do have a website and you want it to be listed on the site, please pick a code and link back to us
Please do not direct link codes or images.
You can choose one of the following codes. Willing to donate some of yours? Then e-mail me: .
50x50
















75x50









100x50:





Join
If you want to update the fanlisting information please use this other form.
Please use the form below for joining the fanlisting. Please hit the submit button only once. Your entry is fed instantly into the database, and your email address is checked for duplicates. Passwords are encrypted into the database and will not be seen by anyone else other than you. If left blank, a password will be generated for you.
If you encounter problems, please feel free to .
The fields with asterisks (*) are required fields.
List of members
Showing fans...
Azar
United States — email — website — favourite pair: Sergei Grinkov/Ekaterina Gordeeva
Belial
Italy — email — website — favourite pair:
Carla
United States — email — website — favourite pair:
Deerstop
Russia — email — website — favourite pair: Shen Xue/Zhao Hongbo
Dottie
United States — — website — favourite pair: Castile/Okolski (USA) and Brasseur/Eisler (CAN)
Fleur
Canada — email — website — favourite pair:
Isobel
United States — — website — favourite pair: Shen Xue & Zhao Hongbo
Jamie
United States — — website — favourite pair: Sergei Grinkov/Ekaterina Gordeeva
Jenna
United States — email — website — favourite pair: Sui/Han, Cain/LeDuc, Calalang/Johnson
Jessica
United States — — website — favourite pair: None
Links
Our affiliates
If you'd like to be listed here, please contact me. I'll gladly affiliate with any related fanlistings.
Other websites
Disclaimer and credits
The site exists exists for nonprofit entertainment purposes. A Man and a Woman fanlisting is a part of sleety.org abd TFL. You're looking at the layout version 2.0, made by me (deerstop) in Adobe Photoshop CS5 and coded with Notepad2. Fonts used: Vag Rounded, Mutlu Ornamental; head image from Wikipedia, other illustrations from the Dutch National Archives and German Federal Archive (Deutsches Bundesarchiv). The history of pair skating was partially translated from ru.wikipedia.org.