Biography
Life and career.
Mamiko Noto
(能登麻美子) was born February 6, 1980 in Kanazawa prefecture. She graduated from Hokuriku Gakuin school (北陆学院), which belongs to the Christian (Protestant) Church. At school Noto sang in the church choir. She also liked acting and participated in theatrical club and
ikebana
club.
Noto wished to become a nurse. However, in high school she was greatly impressed by a stage performance of school theatre, so after graduation she decided to move to Tokyo and study theater arts.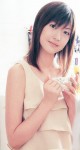 In Tokyo, Noto attended Yoyogi's seiyuu school (代 々 木 アニメーション 学院). She studied there for a year, then started working at voice acting studio
Office Osawa
(大 沢 事务所). Mamiko Noto debuted as anime voice actor in 2000, and since then she has played more than a hundred of roles.
Noto is currently one of the most popular seiyuus in Japan. Due to the specifics softness of her voice, she often portrays naive and shy characters. However, she has also performed male roles, i.e. boys and young men, and inhuman (animal) characters.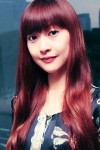 In addition to anime roles, Noto voiced a wide range of characters in video games and Drama CDs. She recorded many songs, singles and a "Character Song" album (
Mamiko Noto Character Song Collection
). She even had an opportunity to reveal a writer's talent as the author of the script for
Touka Gettan
anime series.
Among her hobbies are cooking and flower arrangement. She likes Chinese food and Osmanthus flowers. Not good at dealing with technical equipment, she does not even use a washing machine, preferring to wash clothes by her own hands. Her nicknames include: Mami-mami (official), Noto-chan, Mami-chan, Noto-Mami, Nomami and etc.
Translated from ru.wikipedia.org.